Since the start of the Covid-19 pandemic organizations across the globe have learnt to operate with most of their staff working remotely.
Our last two news items have provided a general look at the issues surrounding returning to the office (https://www.odrl.org/2021/07/13/a-return-to-the-office/) and with the problems staff might have with a return to previous working practices (https://www.odrl.org/2021/07/20/back-to-the-office-beware-of-the-repatriation-syndrome/)
Whilst homeworking was a gradually increasing trend before the pandemic, this grew exponentially in 2020. In 2019 only 5.1% of the UK population mainly worked from home.[i] However, by April 2020, this figure rocketed to 46.6%, with 88% of this population reporting coronavirus as the primary reason for the change.[ii]
Whilst many of the changes brought about by the pandemic can be reversed, it appears homeworking is here to stay. Major employers including Amazon, MasterCard, Nationwide, Salesforce, Siemens and Twitter have committed to providing employees with the permanent option of working remotely. As Unilever's CEO, Alan Jope neatly summarised in January 2021: "We anticipate never going back to five days a week in the office, that seems very old-fashioned now."[iii] Instead, like many other organizations, Unilever is giving employees the freedom to choose how much time they spend in the office.
Flexible working is a popular choice with many employees. According to the Remote Employee Experience Index (REEI) launched by Slack, an American business communication platform, just 11.6% of the 4,700 skilled office workers they surveyed across six countries wanted to return to full-time office work.[iv]
A recent study by King's College London, 2021iva analysing data from over 250 organisations highlights that:
78% of companies are adapting their future strategy because of the pandemic, 47% are planning to restructure
90% report an increase in support for home working and 97% are planning to adopt hybrid working
32% of organisations have policies in place to mitigate against redundancy selection where staff performance has been affected by the pandemic
36% are planning to redesign job roles to better suit remote and hybrid working
Working from Home – The Impact on Employees
Whilst many organizations have used the last ten months to adapt their technology strategies to ensure effective remote working, often less time has been spent on establishing organizational practices for these new 'virtual' workplaces. The move to remote working means that the norms of interaction and behaviour in an office-setting no longer apply. Without this shared context to help foster trust, cohesion and a sense of belonging, employees may begin to feel isolated, and eventually, less motivated.
After a year into the world's largest remote working experiment, this may already be happening. According to the first set of data from Slack's REEI, the main drawback employees identified with remote working was a reduction in their sense of belonging. At the same time the REEI shows people felt a marked improvement in their productivity, work-related stress levels, work satisfaction and work-life balance.
A WFH experiment conducted at the Chinese travel agency CTrip by Nicholas Bloom at Stanford University in 2013 showed similar findings. Employees at CTrip who were selected to work remotely as part of this randomized trial reported improved work satisfaction, and the home working initiative resulted in a 13% performance increase. [v] However, after the experiment 50% of the trial group elected to return to work in the office. The main reason given was that they had "concerns over being isolated at home."[vi]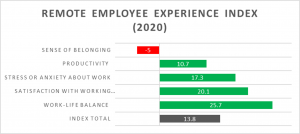 Source: Slack (2020). Rewiring how we work: building a new employee experience for a digital-first world.
A 2019 survey carried out by US company BetterUp found that a high sense of belonging amongst employees was "…linked to a whopping 56% increase in job performance, a 50% drop in turnover risk, and a 75% reduction in sick days."[vii] Hence, by focusing on nurturing and sustaining a sense of belonging, organisations can enhance their overall value and productivity significantly.
As many organizations look to adopt hybrid or remote working permanently after the pandemic, it seems that more needs to be done.  A genuine sense of belonging is what enables employees to engage with their work and excel in their role long-term.
ODRL provides innovative and evidence-based services to help organisations improve their effectiveness and performance. If you would like to discuss the issues raised in this article, please contact Dr Kay Sahdev (ks@odrl.org)
References and further reading
[i] UK Office for National Statistics. (2020). Coronavirus and homeworking in the UK: April 2020. Available at: Coronavirus and homeworking in the UK – Office for National Statistics (ons.gov.uk) (Accessed: 09 February 2021).
[ii] Ibid.
[iii] Geller, M. (2021). Unilever 'strongly encourages' workers to get COVID vaccine. Reuters. Available at: REUTERS NEXT-Unilever 'strongly encourages' workers to get COVID vaccine | Reuters (Accessed: 05 February 2021).
[iv] Elliot, B. (2020). Findings from the Remote Employee Experience Index. Available at: Findings from the Remote Employee Experience Index – Future Forum (Accessed: 2 February 2021).
[iv] King's College London, 2021. New Ways of Working: The Lasting Impact and Influence of the Pandemic [Online]. Available from: https://www.kcl.ac.uk/giwl/assets/New-ways-of-working.pdf
[v] Bloom. N, Liang. J, Roberts. J & Ying, Z.J. (2013). Does Working from Home Work? Evidence from a Chinese Experiment. NBER Working Paper No. 18871.
[vi] Ibid. p.9.
[vii] Carr, E.W., Reece, A., Rosen Kellerman, G. & Robichaux, A. (2019). The Value of Belonging at Work. Harvard Business Review. Available at: https://hbr.org/2019/12/the-value-of-belonging-at-work (Accessed 23 February 2021).